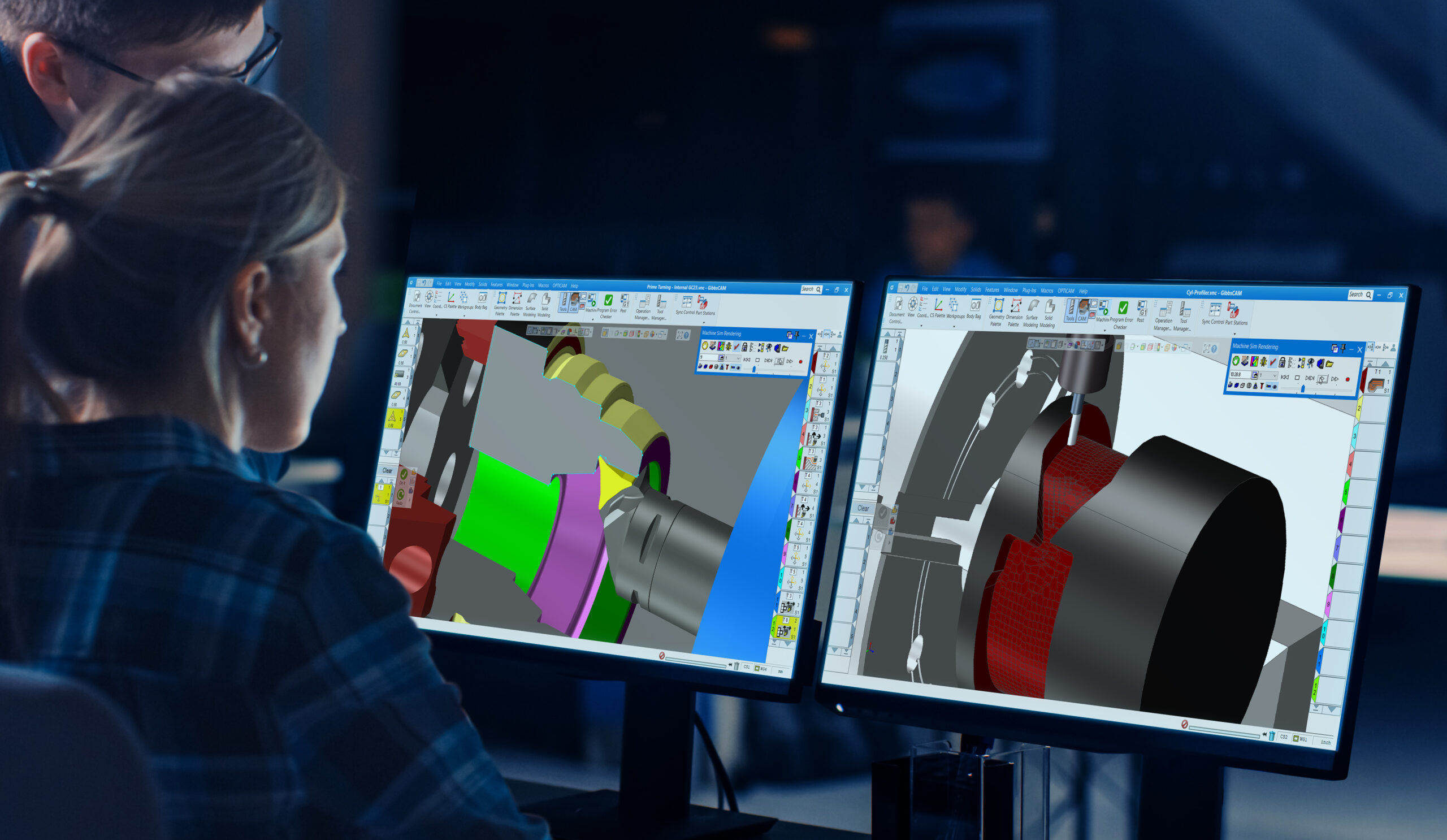 Powerfully Simple. Simply Powerful.
GibbsCAM is cutting-edge CAM software for programming CNC machine tools with the power and flexibility to make parts the way you want. With its single, shop-friendly interface that is customizable and easy to navigate, you'll maximize productivity. With GibbsCAM, CNC programming is flexible, fast, reliable, and efficient.
Turning Re-invented Webinar
Discover the power of Sandvik Coromant and GibbsCAM as we delve into dynamic turning methods to help you realize 30% rough turning cycle time reduction. In this webinar, we cover PrimeTurning, a new way of all-directional turning, as well as Y-axis turning. Designed to offer improved machining flexibility and the potential for significant productivity gains. This innovation presents countless possibilities to create an existing turning operation in a much more efficient and productive way.
Experienced Support Team
You are in good hands with Midwest CAM Solutions! We have built an exceptional support and training staff to help you realize the full potential of GibbsCAM and your CNC machines. Our dedicated Application Technicians have decades of experience in both manufacturing and GibbsCAM. They are able to support each person at the appropriate level, from complete beginner to power user. And our state-of-the-art ticket tracking system ensures that every issue is resolved to your satisfaction.
CHECK OUT OUR
LIVE ONLINE TRAINING CLASSES
Choose from:
Basic Mill, Basic Lathe, Advanced Mill, and Macros
Frustrated by hard to use CAM systems?
Try GibbsCAM for 30 Days and find out how simple CNC programming can be.
HOW IT WORKS
The process couldn't be easier. Get started today.
Let us show you exactly how easy CNC programming with GibbsCAM can be.
We make sure that your CNC programmers hit the ground running with quality training.
Enjoy the benefits of knowing that you are maximizing the capabilities of your CNC machines.
The quality hands-on training really helped me grasp the capabilities. The instructor was very understanding and knowledgeable.
Midwest CAM Solutions stands behind the products they sell, their knowledge and training is incredible. They helped us get up to speed and continue to be great support.
Gary Bahr
, Dadson's Machining
I just wanted to send a note to thank you again! It took you a third of the time to get me running than I had already spent trying to figure it out. I wish all of our vendors had service like that. Thanks again!
Scott Finkenaur
, Johnstech
Just wanted to reach out and give credit where it is due. After months of stressing about this part, I finally feel I've attained the requisite semblance of competency to complete it after our training yesterday. My only complaint is that there are only so many hours in a given day. I could have stayed for a whole week.
Bob Kanawyer
, Production Engineering Corp
Small classes allow lots of time for one-on-one instruction. My instructor had a quality answer to every question asked.
With the added abilities of GibbsCAM and the support provided by Midwest CAM Solutions, we have the confidence to take on more complex jobs, and be confident that they will be done right.
Roland Hart
, Tolerance Tool
Jerry and Phil in Tech Support are top-notch guys and very easy to work with! Their skill and knowledge level have been very helpful when helping me with GibbsCAM questions.
Darren Heldman
, Precision Tool Technologies
I learned capabilities I never thought possible with GibbsCAM which really enabled me to go faster.
Using this solid model data for manufacturing has decreased our programming time by over 50%, and boosted our accuracy to more than 98%. GibbsCAM makes our parts virtually mistake-free.
Jeff Lewis & Marv Peterson
, Heraeus Medical Components (formerly Synovis)
I would estimate that GibbsCAM is easily 30%-40% faster than the other packages I have seen and used previously, and it takes half the time to learn. Our shop has increased its capability by 25% and productivity by 50%.
Mike DesJardins
, Reell Precision Manufacturing
At Precision Tool, we are constantly pushing the programming envelope, so it is nice to know that I can depend on the Support team at Midwest CAM Solutions.
Darren Heldman
, Precision Tool Technologies
GibbsCAM fits the way we think and work. It must have been designed by a machinist.
Corey Rongstadt
, Aspect Automation
I am able to work much faster and program with greater ease. Some of the shortcuts were incredible and highly useable.
The time that I've saved over the past year using GibbsCAM to produce easy, clean, and accurate programs makes me realize that I should have switched years ago. My only regret is that I waited so long.
Jeff Duncan
, Machining Solutions
Communication is a MUST, and I have been very pleased with the quick response from Midwest CAM Solutions Tech Support to keep me informed of where they are at with everything in real-time, so I never have to wonder if my questions are being reviewed or falling through the cracks.
Darren Heldman
, Precision Tool Technologies
I am now able to make G-Code and M-Code formats for post processing to CNC mills.
Thank you to all of our wonderful customers! Your success is our success.
SUCCESS STORIES
Shops just like yours use GibbsCAM every day to make more parts faster.
Wilson Tool International
Wilson Tool International uses GibbsCAM's advanced macro capabilities for Mill, Lathe, and Wire EDM to program their CNC machines almost entirely automatically.
Next Intent
Next Intent works with JPL to make really cool stuff—like components for the Mars Rover projects. GibbsCAM gives them the tools they need to program many different types of parts on many different types of machines, all with one, easy-to-use CAM system.
CNC Performance Engineering
CNC Performance Engineering specializes in manufacturing clutches for the drag racing industry. GibbsCAM gives them the flexibility and precision to produce world-class parts.
Curious about Programming Multi-Task Machines (MTM)?
Multi-task machines (MTM) are more popular than ever. And it makes sense. You can machine parts faster and more accurately when you can perform both milling and turning operations with a single set-up. If you need more information before you make that decision, then download this free e-book, What You Need to Know About Programming Multi-Task Machines, to make sure that you make the best decision for your shop.